Our Team
Our staff of experienced and expert veterinarian doctors and skilled vet staff is ready when your pet needs us. Call or contact us today to learn more.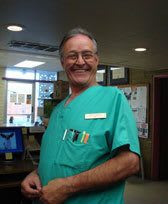 The Immortal Joe
Technician
It has been said that Joe was not so much hired by ACC, as simply congealed from its walls. The truth is that Joe probably has more history with ACC than anyone, save Dr. Barnes. When Joe was 12, while bowling, his father convinced Dr. Cobble to give Joe a job to get him out of the house. Little did they know at the time that Joe would be the single most important thing to happen to ACC. Having seen the hospital grow into a new building in 1962, and having helped train no less than 30 veterinarians over the years, Joe is by far one of the most skilled and experienced veterinary technicians today.
Our Staff!
Our friendly and dynamic staff are here to help keep your pets safe, happy, and healthy. They are dedicated in making sure your pet leaves with the best care they can provide. Our staff also has a wide variety of experience and talent and are happy to share them!